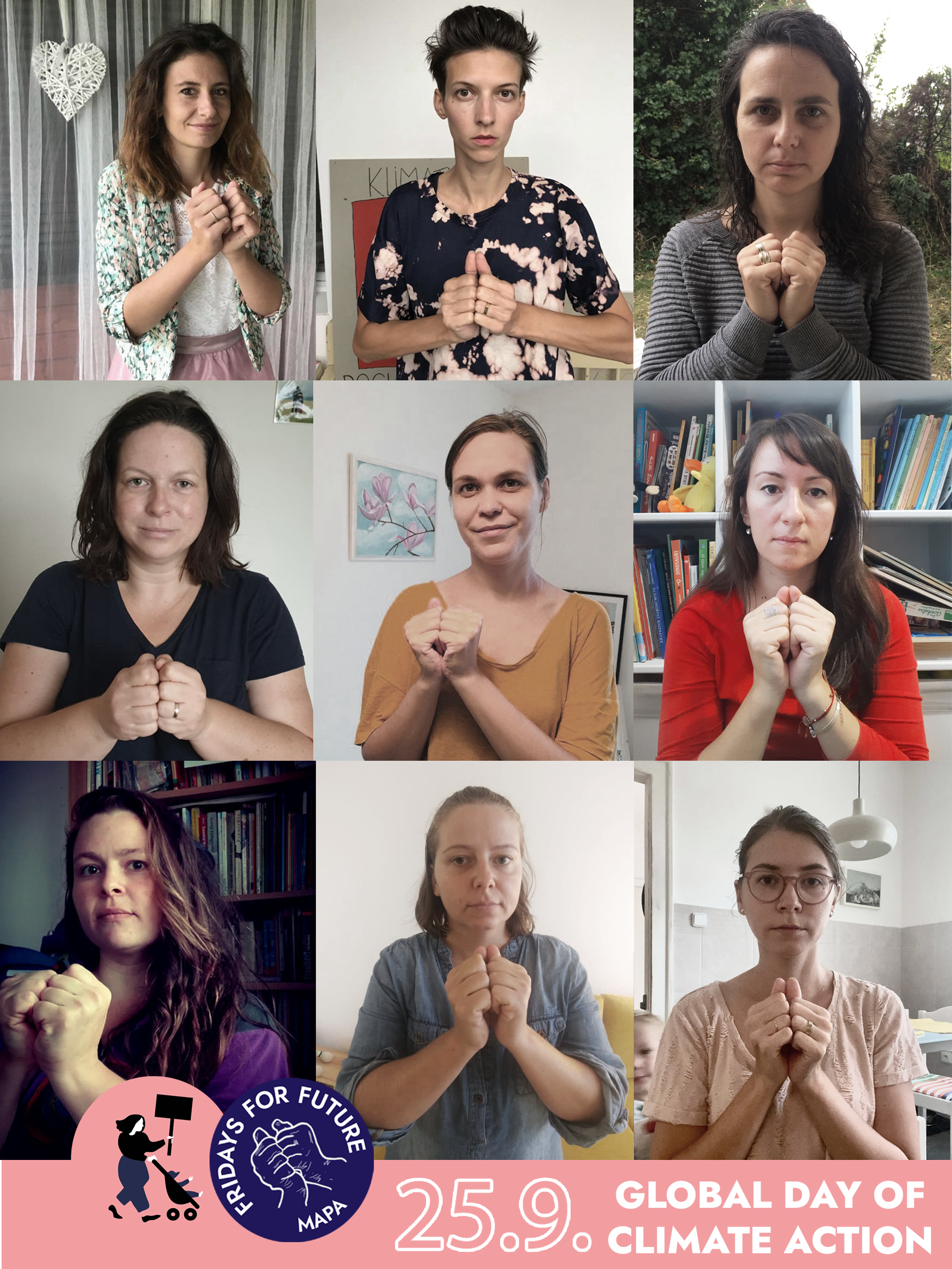 September 2020
Klimatická kríza je už tu. Svetoví lídri sa rozhodli, že ju budú ignorovať. Médiá jej dôsledkom nevenujú dostatočnú pozornosť.
Cyklóny v Ázii, Karibskej oblasti a Pacifiku, záplavy v Afrike. Požiare, nedostatok vody, miznúce ostrovy. Miliardy ľudí bojujú o svoj život, strácajú svoj domov, sú ohrození pandémiou, hladom a nemajú vidinu do budúcna.
Kto za to vezme zodpovednosť? Tí, čo to spôsobili v najväčšej miere historicky sú USA a Európska únia. Čína ich závratným tempom dobieha. Chevron, Exxon, BP a Shell sú najviac znečisťujúce korporácie. Za ich zisky a klamstvá nesú následky nevinní ľudia. Títo ľudia sú často považovaní len za štatistiky. Sú priamymi svedkami toho, ako sa environmentálna a socio-ekonomická kríza stále zhoršuje.
 Týchto ľudí nie je počuť, ale majú svoj hlas. Bojujú za svoju prítomnosť, nie len budúcnosť. Sú väzňami nespravodlivosti, my žiadame klimatickú spravodlivosť pre všetkých. Takto spojené ruky sú znakom solidarity. Pomôžme im, buďme ich hlasom.
Dnes je Global Day of Climate Action.
Žiadame slovenských politikov, aby prijali zodpovednosť a konali. Už nemáme čas. Potrebujeme každého z Vás.
"They are unheard but not voiceless. They are fighting for their present, not just their future. We will not be prisoners of injustice."