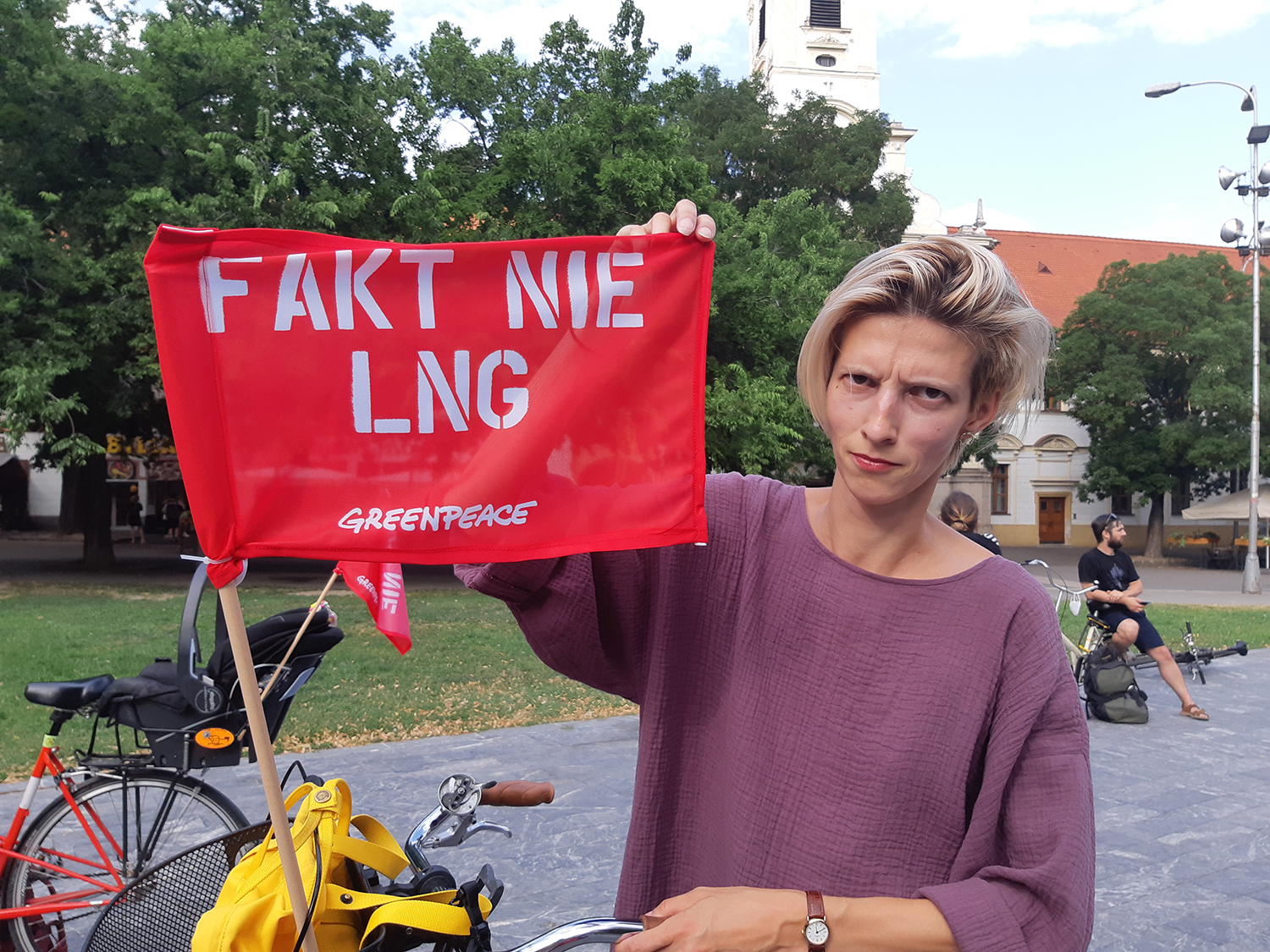 September 2021
Júnová bajkovačka nás nabila pozitívnou energiou! Super ľudia, klimatický playlist, akčná nálada. Ďakujeme všetkým, čo prišli, @cyklokuchyna za spoluorganizáciu.
Prebajkovali sme krížom krážom cez 3 mosty, a keď sme prišli k cieľu, pozdravili sme protestujúcich na kayakoch, ktorí boli úplne fantastickí – vďaka @greenpeace_slovakia_ , @bodobratu_kolektiv , @z_lavic_do_ulic za odvážnu plavbu až do prístavu.
Aj z vody aj zo súše je jedna vec jasná – LNG terminál je proti zdravému rozumu.🙃
Toto nie je koniec, budeme upozorňovať na nutnosť reálnych riešení klimatickej krízy, na greenwashing plynárov , budeme ďalej bojovať proti tomu, aby sa v Bratislave postavil tento nezmyselný terminál.
A nebol to koniec, pretože na začiatku septembra sme v rámci Mestského akčného kempu protestovali znova a konala sa NEČAKANÁ AKCIA!
Na protestnom pochode proti výstavbe plynového LNG terminálu na Dunaji bola skvelá akčná nálada! Z lavíc do ulíc , Bod obratu , Greenpeace Slovensko , XR Slovakia , Limity jsme my , Gastivists , Ende Gelände , Znepokojené matky a ďalší vyjadrili nesúhlas s novou plynovou infraštruktúrou, ktorá len prehĺbi klimatickú krízu a nedáva žiadny zmysel…
Ako vidíte podľa transparentov, medzi kolektívmi je vážny ROZKOL! Je čistý plyn ČISTÁ LOŽ alebo ŠPINAVÁ LOŽ ⁉️ Každopádne lož.
Prekvapivý zvrat nastal, keď sa blízko pri konci protestu časť aktivistov odpojila, a namierili si to do priestoru Verejných prístavov , kde je LNG terminál naplánovaný….  Symbolickou okupáciou na nábreží Dunaja vyjadrujú nesúhlas a majú aj našu podporu. Aktivistky a aktivisti plánovali na mieste zotrvať do ďalšieho dňa, avšak po 10 hodinách ich blokádu zastavili pracovníci SBS, tak prístav opustili.
Ak nám chcete pomôcť, stačí spraviť jednu jednoduchú vec:
PODPÍŠTE VEREJNÚ VÝZVU  http://act.gp/verejna_vyzva_nie_LNG