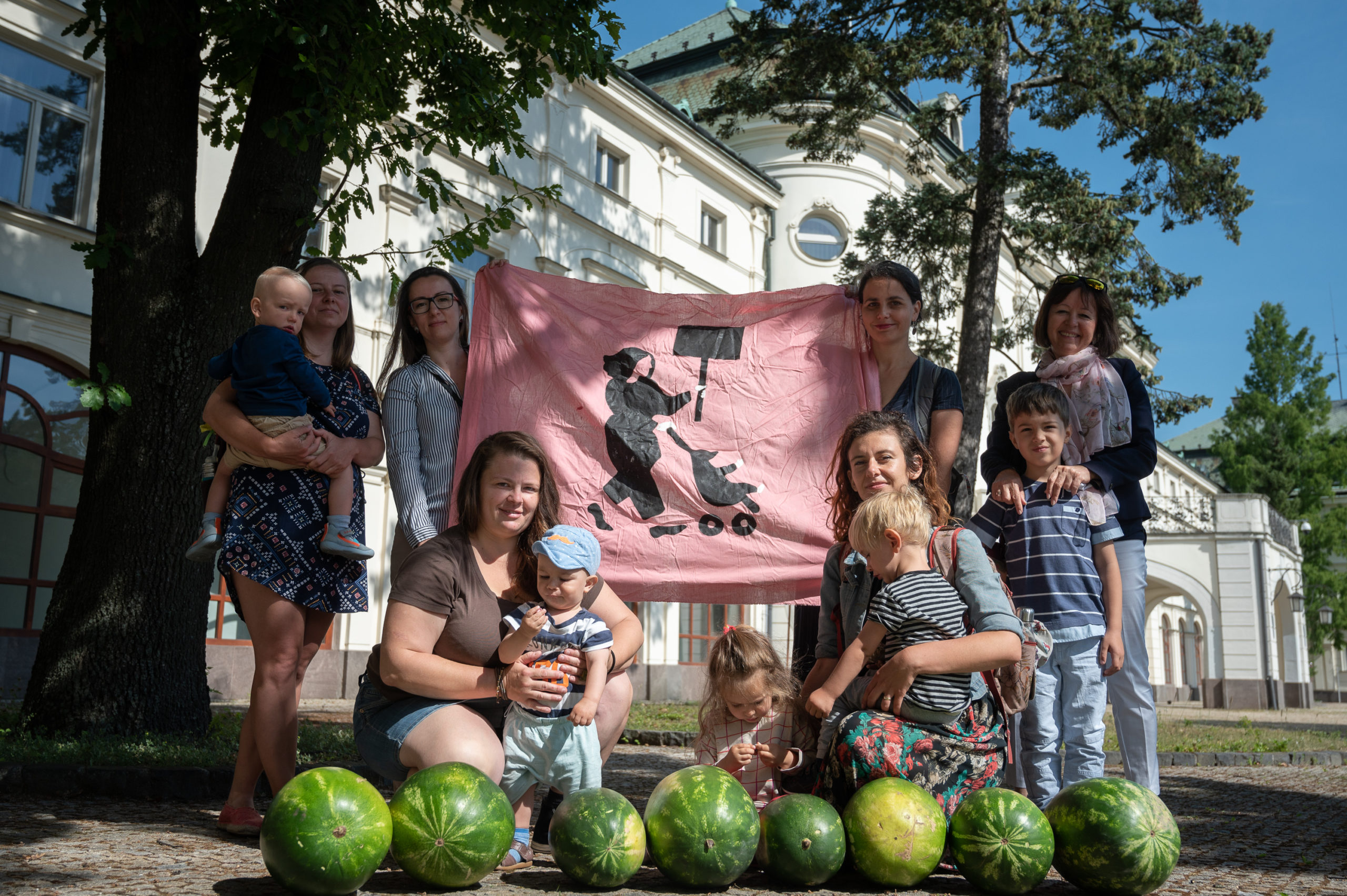 júl 2020
PREMIÉROVI  SME PRINIESLI MELÓNY 
Klimatická kríza nepočká! Pokiaľ klimatické opatrenia nezačneme prijímať hneď, tak naše deti nebudú mít planétu, na ktorej by sa dalo žiť.
Stojíme pred obrovskou príležitosťou tento katastrofický scenár zvrátiť. Z EU sa do slovenského rozpočtu prigúľa 8 miliard EUR naviac, ktoré sa musia využíť na zelenú obnovu slovenské ekonomiky.
Týchto 8 melónov reprezentuje  8 miliard, ktoré sa nesmú len zjesť ani použit na záchranu vysokouhlíkových odvetví či na projekty, ktoré ničia naše zdravie a planétu.
TIETO MELÓNY SÚ PRE NAŠE DETI.
Spolu s melónmi sme premiérovi Igorovi Matovičovi odovzdali aj pozvánku na Klimatický piknik, kde sa s ním na túto tému chceme porozprávať. Prídete tiež?
…………………………………………
Melóny, ktoré sme zaniesli premiérovi Matovičovi, aj miliardy Eur z Európskej únie čakajú, ako budú použité. Ako vidíte, sú znepokojené a prechádzajú si rôznymi štádiami klimatickej úzkosti…
Ak Vám záleží, aby tieto melóny neskončili v nesprávnych rukách, príďte na Klimatický piknik a spýtajte sa premiéra, ako ich použije! 
………………………………………
TAK, KLIMATICKÝ PIKNIK 2020 JE ZA NAMI
Melóny sú zjedené, emisie stúpajú ďalej. 
Dúfame, že to tak nebude aj s miliardami z EÚ. Pretože máme jedninečnú šancu ako transformovať našu ekonomiku na zdravú, udržatelnú a spravodlivú. Budeme sa ďalej snažiť apelovať na našich politikov, aby plán, ktorý budú predkladať v októbri komplexne riešil všetky problémy Slovenska, aj klimatickú krízu a stratu biodiverzity.
💚Ďakujeme všetkým, že ste znepokojení s nami!💚
Vďaka tým, čo prišli, a aj tým, ktorí s nami piknikovali na diaľku napríklad v Žiari nad Hronom, v Trenčíne, v Púchove, Karloviciach a inde. Ste úžasní, dávate nám nádej a energiu pokračovať v našom boji.
Pán premiér Igor Matovič neprišiel. Bol len pár metrov od nás na Úrade vlády, kde vysvetľoval novinárom, ako to bolo s jeho diplomovkou. Škoda, mohol prísť, u nás bola lepšia nálada, a aj výborné koláče. 
Počas pikniku sme mu napísali pár odkazov, ktoré Vám ukážeme zajtra. ☺️
Ďakujeme za krásne fotky Tomáš Halász.